What to Expect the First Week of Invisalign in Kyle
What to Expect the First Week of Invisalign in Kyle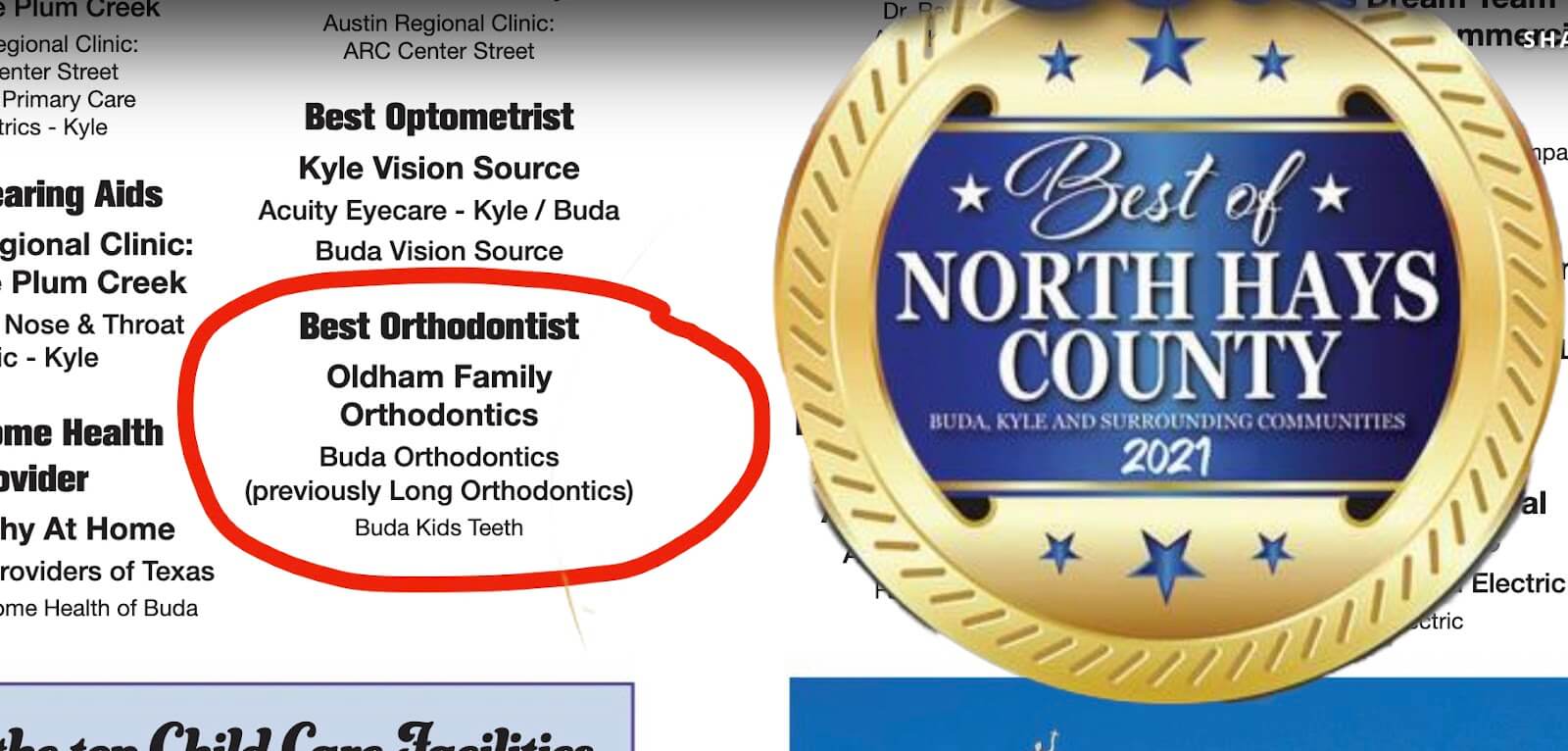 Before we get into today's blog topic, we just wanted to say a huge THANK YOU to everyone who voted us 1st Place as "Best Orthodontist" in the 2021 special issue edition of Hays Free Press News-Dispatch "Best of North Hays County". We are so honored and excited about this distinction, and we are eager to serve the Hays County community for years and years to come! Thanks, y'all!
Now, let's talk Invisalign. Invisalign in Kyle is a great solution for anyone who wants to straighten their teeth in an effective and subtle way. Instead of traditional Kyle/Buda braces, Invisalign aligners are clear and removable, and they are just as efficient. You can find answers to some of the most Frequently Asked Questions we get about Invisalign right here, but in this blog we thought we'd outline what our patients can expect the first week after getting Invisalign aligners.
Putting the Aligners In
When you get your first set of Invisalign aligners from Kyle orthodontist, they will be very tight-fitting and may make your teeth a bit sore. It can be difficult to put them in and remove them during the initial week. Your upper tray and lower tray will come printed with "U" and "L" on them so you don't get them confused. You don't want to put the wrong aligner on the wrong set of teeth! You'll want to gently push the aligner in place starting with the front teeth, and then continue putting pressure on the rest of the teeth until everything snaps into place. You can always push on your back molars to be sure it's fitting snug. Never force your Invisalign in Kyle aligners in or bite them aggressively until they fit. You can also use chewies or bite sticks so that they feel more comfortable.
Popping the Aligners Out
It may be tempting to reach around the outside of your back teeth to pop your aligners out, but it's much more effective to remove them by hooking your finger underneath the tongue side of your back molar and pulling them out and up. Once you feel the pressure give way, hold onto your aligner on both sides and slowly pull it completely out. The more you pop the aligners in and out, the more you will get used to it and the easier it will be.
How Your Mouth Will Feel the First Week with Invisalign in Kyle
Some people speak with a slight lisp the first week that they wear their Invisalign aligners. Don't worry! It will go away after about a week or two. It's usually not that noticeable, and shouldn't cause any big issues. You may also notice that you are producing an excessive amount of saliva with the aligners in, and may find yourself thirstier than normal. Your teeth and mouth just need to get used to the feel of aligners in your mouth and this should resolve on its own. Your mouth may be sore and your tongue may feel weird, especially if you're unconsciously running your tongue underneath the edges of your aligners. Taking some over-the-counter Tylenol or Ibuprofen can help with the soreness and uncomfortable feeling.
How to Take Care of Your Invisalign Aligners
The whole point of Kyle Invisalign is for the trays to be unnoticeable, so in order to keep them clear and clean, don't eat with them on! You need to take them out every time you're eating, and definitely take them out if you choose to drink anything other than water to avoid a buildup of sugar or acid on your aligners. When you've finished a meal or snack, it is imperative that you brush and floss before putting the trays back in your mouth. If you don't, you run the risk of plaque, bacteria, and food getting trapped in your trays and causing damage to your teeth and gums. It's also a good idea to give your aligners a quick rinse with water before popping them back in. If you take care of your Invisalign aligners properly, you won't have to worry about deep cleaning them or soaking them in any kind of special solution.
Carry Your Case With You
When you receive your Invisalign aligners, you'll also be given a compact case to store them in when you take them out to eat or drink. We highly recommend you start carrying the case with you at all times. It's small and convenient and can easily fit in a purse or pocket. That way, when you're at a restaurant, you don't leave your trays on a napkin and accidentally throw them away (believe us, it's happened more often than you might think!).
Get Your Invisalign From Oldham Family Orthodontics in Kyle
Once your first week of Invisalign in Kyle is complete, you should feel a lot more comfortable and confident about popping your aligners in and out. If you still have a lot of pain by week two of Invisalign, it's a good idea to let your Kyle orthodontist know.
On the hunt for Buda braces or Invisalign in Kyle? No matter what orthodontic treatment you need, you can expect quality care from board-certified Kyle orthodontist Dr. Maxwell Oldham. At our office. Dr. Oldham and our staff promise to take care of you from the minute you walk in the door until your treatment is fully complete.
"My brother started Invisalign at Oldham Family Orthodontics and it was going so well that I started as well. Easy and convenient appointments. Clean office. You can tell that Dr. Oldham is very knowledgeable, and I love the Invisalign he customized for me. Whole staff is really friendly too." -Google review from Phillip B.
We offer comprehensive orthodontic treatment to kids, teens, and adults in the Buda/Kyle area! Can't make it during normal business time? We're open for extended weeknight and weekend hours to fit your busy schedule! Visit us today!
If you live in Kyle, San Marcos, or Buda, orthodontics has never been easier.
We provide Kyle/Buda braces and Invisalign in Kyle to kids, teens, and adults.
Call us today at 512-256-7886 to schedule your FREE orthodontic consultation!