Keeping Up With Regular Dentist Visits During Kyle Braces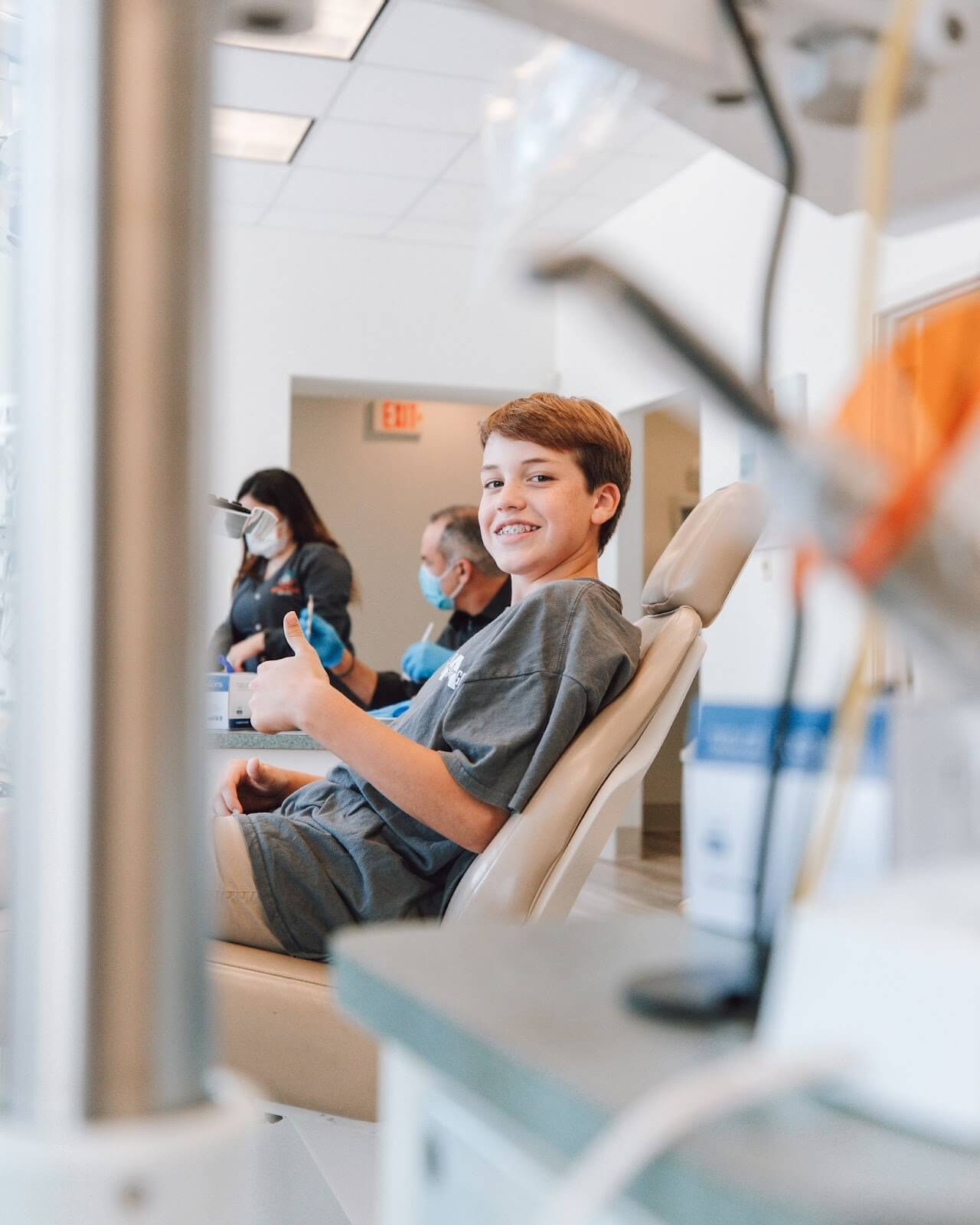 No one loves going to the dentist, but we all know it's necessary to keep teeth in good shape. But once you start Kyle orthodontic treatment, you don't have to see your dentist anymore, right? WRONG! Any individualized orthodontic treatment plan should be coordinated with your dentist to be sure you're getting the best care possible. When you come to Oldham Family Orthodontics in Kyle, we'll encourage you to continue seeing your dentist at least every six months for regular cleanings and check-ups during your treatment and beyond. If you want to maintain a beautiful smile with healthy gums and strong teeth, regular professional care from your dentist is the best way to go. Here is a list of reasons why regular dental visits are so important-braces in Buda or not!
Less Plaque and Build up
When food gets trapped in your mouth, it can turn into plaque quickly if not cleaned properly. Plaque can easily build up on teeth, and wearing Kyle braces or another appliance can make removing that plaque even more difficult. Plaque can cause things like tooth decay, bad breath, painful gums, and stained teeth. The main goal of dental cleanings is to remove plaque and buildup!
Less Cavities
If your dentist sees the formation of a cavity inside your mouth, they will want to treat it. Leaving cavities untreated can cause permanent damage to your teeth, causing tiny holes to enlarge and trap even more bacteria. When you don't clean your teeth well and eat lots of processed sugar, tooth decay becomes even more common. Your Kyle orthodontist will encourage you to see your dentist on a regular basis to prevent tooth decay and cavities.
No More Bad Breath
Sometimes Tic Tacs® can only get you so far! When plaque bacteria builds up around your teeth and/or your Kyle braces, it can cause serious bad breath, a.k.a. Halitosis. When this bacteria breaks down particles of food in your mouth, an unpleasant smelling gas can be released, causing other people to quickly inch away. Frequenting your dental office can ensure that your breath won't ever get to that next-level smell.
Avoid Painful or Swollen Gums
Because Buda braces make it harder to brush and floss well, you can't skip those twice a year cleanings with your dentist. Regular check ups will help you maintain healthy gums and clean out any trapped food or plaque that can make them swollen.
Clean Those Stained Teeth
Your braces in Kyle are not a shield against all foods and beverages. Drinking coffee, tea, wine, and even soda can stain your teeth if left untreated. By going to the dentist for a professional cleaning, your dentist can reverse or halt the discoloration from some food and beverages.
Dental Visits Catch Orthodontic Issues Early
You may not think you need braces in Buda yet, or maybe you're waiting for your child to lose all of his/her baby teeth, but sometimes your dentist can catch certain issues going on in your mouth that would benefit from orthodontic treatment before you do. For example, say your child has a lot of adult teeth coming in, and no room for them to go. Your dentist may recommend an orthodontic consultation to see if your child would benefit from a palatal expander or some other form of Phase 1 orthodontic treatment in Kyle.
Regular X-Rays At The Dentist
While you see your dentist every six months, you probably get x-rays taken of your teeth about once a year, or once every 1-2 years. Using x-rays to see the big picture of what's going on inside your mouth can help your dentist determine if you would be a good candidate for Kyle orthodontic treatment.
Prevent Decalcification
Scheduling regular dental visits and cleanings during ongoing orthodontics will also prevent decalcification, or "decal". Decalcification is when you get white spots on your teeth on the areas where your brackets used to be. When you don't brush and floss properly, and also eat a lot of sugary and acidic food, decalcification is a very real possibility. These white marks are permanent. It's important to drink lots of water and continue seeing your dentist for deep cleanings throughout orthodontic treatment to prevent decal.
Get a Cleaning When Those Braces Come Off
When your orthodontic treatment is complete, it's a good idea to schedule a professional dental cleaning so that your dentist can remove any excess plaque buildup and get to those hard-to-reach areas that maybe you couldn't before. With a clean, polished set of straight pearly whites, you'll be ready to flash that grin of yours to everyone!
Choose Oldham Family Orthodontics in Kyle
At Oldham Family Orthodontics in Kyle, we truly care about you and the level of attention you receive. "I take a ton of personal pride in my work, and I'm not going to stop until we get the result that you and I are both satisfied with," says Dr. Oldham.
Board-certified Kyle orthodontist Dr. Maxwell Oldham and our staff are excited to offer comprehensive orthodontic treatment to everyone in the Kyle, Buda, and San Marcos area. If you're thinking about Buda/Kyle braces, Invisalign in Kyle, or another form of treatment, Dr. Oldham has the right education and expertise to solve your individual case. We work hard to provide our patients with the latest, up-to-date technology and beautiful smiles. With so many options for orthodontic treatment, you can achieve the results you want that fit your lifestyle.
"I am so glad we found Oldham Family Orthodontics. Dr. Oldham is so knowledgeable and you can tell he loves what he does. Our son has Invisalign and we couldn't be any happier with the process. They really deserve a 10 star rating! Olivia and the office staff are also so nice and accommodating to our busy work/school schedules.  They definitely make you feel like family."-Google Review from Tiffany H.
If you live in Kyle, San Marcos, or Buda, orthodontics has never been easier. 
We provide Kyle/Buda braces and Invisalign in Kyle to kids, teens, and adults. 
Call us today at 512-256-7886 to schedule your FREE orthodontic consultation!