Invisalign First™: Orthodontics in Kyle For Your Child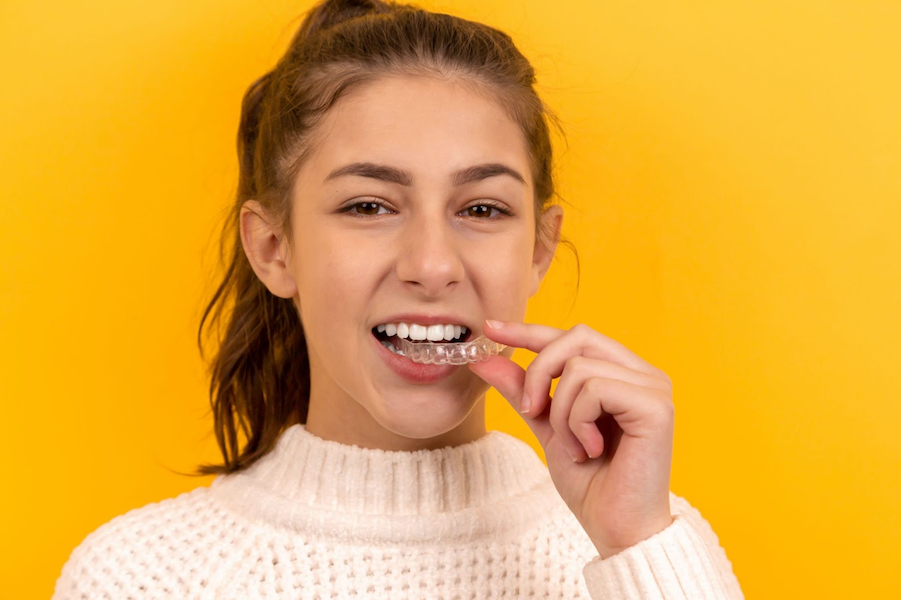 Is your child ready for braces but you're nervous about all the pokey wires and metal in their mouth? Do you want to straighten your kid's teeth, but you're worried about them playing sports in traditional braces? Does your child have sensory issues and doesn't like the feeling of metal and wires in their mouth? If you answered yes to any or all of these questions, then Invisalign First™ in Kyle may be the right option for your child. Oldham Family Orthodontics in Kyle is excited to offer Invisalign First™ to children and preteens as an alternative to traditional metal braces. Keep reading to find out if Invisalign First™ is the right choice for your child!
What Exactly Are Invisalign First Aligners?
Invisalign First aligners are much like Invisalign aligners for adults. They are clear, almost invisible aligners that fit like a glove over your teeth. They can treat a broad range of teeth straightening issues in growing children whether simple or complex. They are flexible and removable, making it easier for growing children to eat while undergoing orthodontic treatment. Because they are removable, kids can also brush and floss better than with traditional Kyle braces. They are designed to be comfortable, so kids don't have to deal with rubbing brackets or poking wires.
Who is a Good Candidate for Invisalign First™?
If your child is between the ages of 6 to 10, they may be ready for Invisalign First, which focuses on Phase 1 orthodontic treatment for developmental issues. Kyle Orthodontist Dr. Oldham says,
"We always recommend kids come in around age 7 for their first orthodontic check up. We are checking to see: Are the teeth developing correctly? How many permanent teeth are there? Are the permanent teeth erupting in a different pattern than normal?" If we start seeing deviations from normal growth behavior, that's when we recommend a different form of treatment called "Phase 1".
After a free consultation at our office, Dr. Oldham can determine if your child has oral issues that would benefit from early orthodontic treatment. Issues like:
The lower jaw is growing faster than the upper jaw
Canines are impacted
They have a bad crossbite, underbite, or overbite
There is significant crowding and not enough room for adult teeth to grow in
Gaps in the teeth are large and noticeable and need to be corrected
Arch development
Tooth protrusions
Tooth interferences
There is a limited window of opportunity to correct some of these oral issues. As kids get older, an orthodontist can't always influence the growth of the bones and is unable to correct some dental-tooth eruption patterns. Invisalign First in Kyle is designed to target some of these common issues before they grow into a huge problem.
How Does Invisalign First Work?
Invisalign First gently shifts teeth over time with sets of clear aligners. Your child may be in Invisalign for a few months or up to a year and a half, all depending on their unique orthodontic case. As your child wears his/her aligners, their jawline will be expanded and contoured through dental arch expansion. The width of their dental arch will grow the longer they wear the aligners, making more room for necessary orthodontic changes. If Dr. Oldham determines your child is a good candidate for this treatment, your child will receive a free digital scan with our 3D Invisalign iTero Element® scanner. Your child's scans will be sent to an Invisalign lab where a set of Invisalign First aligners will be custom-made to fit the unique contours of your child's teeth.
When Will You See Results with Invisalign First?
Like with all Kyle orthodontic treatment, Dr. Oldham can give you an approximate estimation of how long you'll have to wear the aligners, but if you don't wear them as often as directed, your time could be extended significantly. For the best results, aligners should be worn at all times except when eating, flossing, or brushing teeth.
Invisalign First Benefits
Children of varying ages can benefit from Invisalign First in a lot of ways:
It allows children to receive Invisalign treatment similar to adults and teens
Treatment can be customized for your child's specific dental issues
Invisalign First can create room for incoming teeth
It supports teeth and jawline formation
Your child will have no diet restrictions or activity limitations like they would with braces
You know your child best! If you think they are responsible and mature enough to keep track of their aligners, Invisalign First may be the right choice for them. You can even add Invisalign Stickables™ to the aligners so they are easier to spot on a counter or table and less likely to be thrown away.
Choose Oldham Family Orthodontics in Kyle
Board-certified Kyle orthodontist Dr. Oldham offers FREE orthodontic consultations for his patients. If you're thinking about Invisalign First™ for your child, Invisalign for kids, Invisalign for teens, Invisalign in Kyle, Kyle/Buda braces, or some other type of treatment, set up a consultation today! You'll have X-rays taken, a full digital image rendered of your individual smile, and a thorough oral exam done by Dr. Oldham all at no cost to you. At your consultation Dr. Oldham will discuss your treatment plan and go over your financial options. You'll receive attentiveness and care every step of the way. At our office, you're not just another patient. You're part of our family!
"The staff at this office amazing!! From Dr O to Olivia and his assistants they rock!! All my family loves this office. Great service, price, support and understanding with patients. I love the fact that he is very honest and gets the job done!! This office goes above and beyond. I work in the dental field and we do a-lot of referrals to this office and our mutual patient's love them. Thank You guys! -Google Review from Veronica J.
If you live in Kyle, San Marcos, or Buda, orthodontics has never been easier. 
We provide Kyle/Buda braces and Invisalign in Kyle to kids, teens, and adults. 
Call us today at 512-256-7886 to schedule your FREE orthodontic consultation!